My Washington DC trip last week was again a successful "public transportation only" trip. I found the DC subway system very user friendly. Absolutely stress free. Plenty of time to read and reflect. Plenty of reflecting, I did. There was this one thing that occupied my thoughts. It was this photograph of a 50 year old Indian tusker. The photograph was taken by
Yathin of Ichthyophaga ichthyaetus
inside the Bandipur national forest.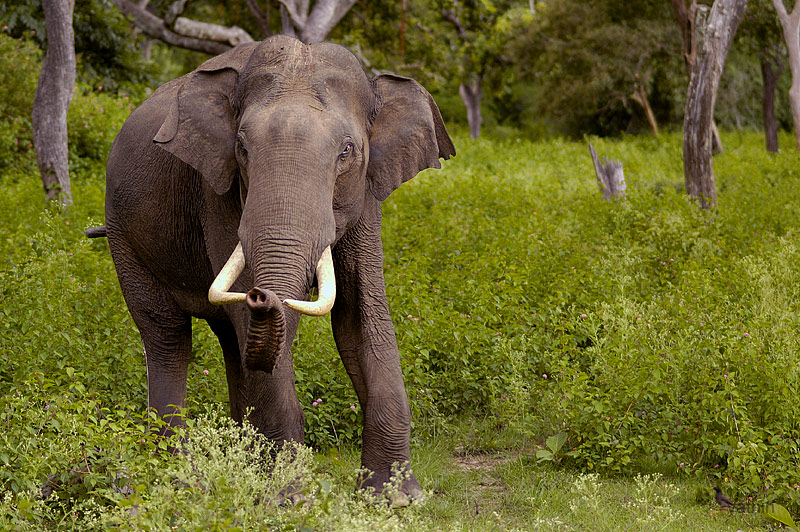 A few weeks after the photograph was taken,
the tusker was found shot dead
. The tusker was shot, with a powerful muzzle loading gun, into its right temple, when it was drinking water. A 2.5 cm steel rod was used in the gun as a projectile.
Yathin is a passionate wildlife photographer. The news made him and all his readers very sad. I wondered if there was something that we all could do about it. I badly wanted to do something.
A few days later Yathin broke the news that the
poachers were arrested
. That was some consolation. But here is a shocker...The punishment for such a heinous crime is a fine of 10,000 rupees ( about $220) and/or 3 year imprisonment. I don't mean to insult peanuts, but this punishment is nothing but peanuts. Like Yathin says, true justice would be done only when the rich international gang behind it is behind bars. The only silver lining to the story is the fact that the local villagers and a few politicians helped arrest the criminals.
So what is my point ? My point is this...Everyone agrees that apathy is lethal. We all empathize. But is empathy enough ? The poachers would have escaped had it not been for the locals. Like the local villagers, can we the bloggers and readers do something ? Can we make a positive difference?
My search led me to
Wildlife Protection Society of India (WPSI)
. Founded in 1994 by Belinda Wright, the society has been aggressive against poaching. The society has been maintaining a database of poachers and poaching incidents. Analysis of this information has helped nab several international smuggling gangs. The first thing we all could do is notify them of a poaching incident.
They also list the email addresses of influential leaders. They encourage everyone to take a moment and write a few words. It is estimated that only 2% of India is under natural forest cover today. Wildlife is under extreme pressure.
Every little effort matters in preserving whatever little is left.
The email addresses
Manmohan Singh. Prime Minister of India (pmosb@pmo.nic.in)
A. Raja. Minister for Environment and Forests (mef@menf.delhi.nic.in)
P. Ghosh. Secretary, Ministry of Environment and Forests (prodipto_ghosh@nic.in)
Or, one can adopt a conservation project. For donations & other information about
WPSI
please do write to wpsi@vsnl.com
Quote of the day
" Small deeds done are better than great deeds planned" ~ Peter Marshall